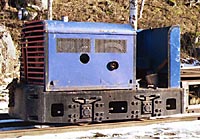 Diesel Locomotive, Jenbacher Werke, 1956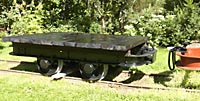 Traditional skip underframe, restored and rebuildt as flat wagon at the OKJ workshop.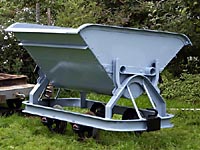 Newly restored skip.
Jag har samlat på lok och vagnar med 600 mm spårvidd sedan 1980. Samlingen består idag av nio lok och ett tjugotal vagnar och trallor. Ett par cykeldressiner kompletterar samlingen.
OKJ är även två järnvägar, en i Dalarna och en i Västmanland. Den i Dalarna är ett litet spårsystem kring ett litet lokstall, endast avsett som förråd. I Västmanland är en lite större järnväg under projektering där allt spår och all rullande materiel ska samlas under de kommande åren.
Det förekommer även att OKJ verkar på andra platser med flyttbara spår.
Denna sajt är för närvarande under ombyggnad. Mer material kommer att läggas ut i mån av tid.

Welcome to the OKJ Railway Collection
OKJ Railway Collection is a Swedish privatly owned collection of 600 mm gauge railway locos and rolling stock.
I started my collection of narrow gauge railway locomotives and waggons in 1980. The collection consist today of nine locomotives and about twenty waggons of different types and sizes.
OKJ also stands for two railways, one around a small portable locomotive shed, and in the planing stage.
With the help of the English menu to the left you can read more about the collection.
Senaste uppgraderingar:
Latest updates:
Sidan är under omarbetning. Inga uppdateringar redovisas för närvarande.
No updates avalibel at the moment.